Hi Guys
Just though I'd post this quick guide to help anyone who needs to replace their door speakers in the future.
Firstly, you will need to remove the plastic door card. For this you will need a torque head screw driver with various size heads. The removal is fairly straight forward and you can follow this diagram to locate fixing points but once you have removed the screws, take care not destroy any of the flimsy plastic catches which keep the door secure as these will rattle in future if broken.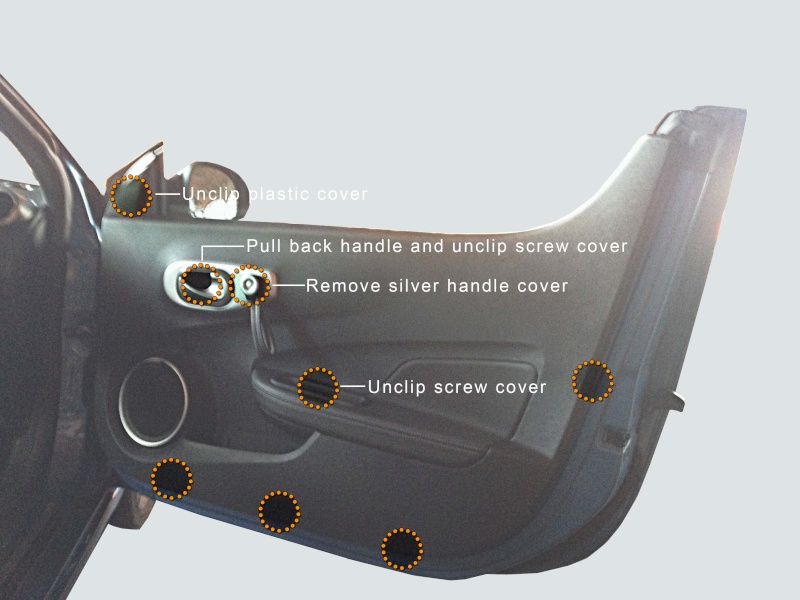 You can access the speaker itself by removing the grill cover but this does not give you sufficient room to get the speaker out. At this stage, you will need a power drill. Start by unclipping the molex connector and with a drill bit the same width as the rivets, carefully drill through the centre of each rivet. This is tricky and I found it very difficult to do, but persevere and those rivets will pop out. With a chisel sheer of the heads and the remaining rivet will fall through the hole and into the door. Fish it out and move onto the next stage.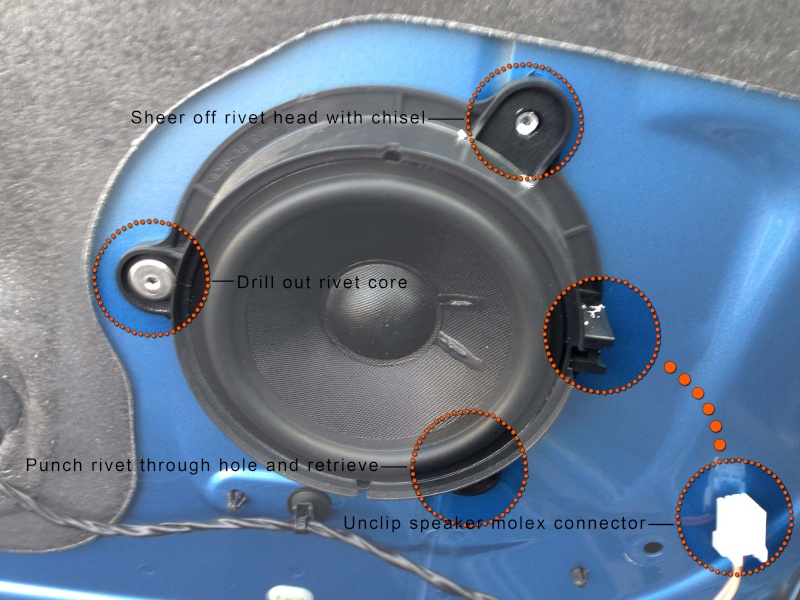 The door interior was fairly damp, its obviously not very waterproof and it may be practical to install some home-made waterproofing in the form of plastic bags around where you speaker will be, though allow space for trapped moisture to escape and obviously take care not to obstruct the electric window opening.
If you're replacing the speakers with the same size, than next you will need a mounting brackets for a 13cm (5.25") speaker. These you can make easily make from plywood if your handy with DIY, or you can buy them in pairs fairly cheaply online. Counter intuitively, the Wind (or atleast the 1.6 GT) uses the same speaker installation as the Megane, rather than Twingo so of you going to buy a mounting bracket adapter, get one for a 2008+ Megane (CT25RT02). 
Depending on your speaker manufacturer, it may or may not come with cables. Either way, for simplicity I simply connected to the existing wiring as this prevents the need to drill through the side of the car to get more wires in. You may be able to get an adapter with the wires you need, I simply jammed my wires into the correct polarity points of existing connector and secured with electrical tape to prevent the terminals touching. You must keep positive and negative cables from touching as this will immediately stop your speakers working.
For guidance, I've determined the pink or grey wires to be positive and the beige wires to be negative.
Lastly, if you're happy to continue using the existing tweeters as they may sound fine, then your all done. Or, if you want to do away with components and just have a standard coaxial/triaxial car speakers, then just slide a sharp object under the dash grills and prize the speakers out, just unclip the molex connector and then replace the tweeter and grill for neatness, and your done.
In my case, the tweeters on the dash board were working fine, but as I've purchased component speakers I obviously want to upgrade the entire system but this is slightly more complex so I'll cover this in the next guide.
Thanks for reading!
Last edited by ohkrana87 on Sat 14 Nov 2015 - 17:56; edited 1 time in total (Reason for editing : Images inserted)

ohkrana87

Set the stereo




Posts

: 16


Join date

: 2015-10-17


Age

: 34


Location

: Newcastle



Excellent write up. If it helps one member that's what we need.

Thank you. ohkrana87.

Barbs

Admin




Posts

: 2865


Join date

: 2015-03-14


Age

: 60


Location

: Doncaster, South Yorkshire




Barbs

Admin




Posts

: 2865


Join date

: 2015-03-14


Age

: 60


Location

: Doncaster, South Yorkshire



Similar topics
---
Permissions in this forum:
You
cannot
reply to topics in this forum