Had a brief chat and Knebs had a fortnight walking the lakes with Tess the Forum  mascot...

Would love to hear about it... Did you manage to carry all the tins of dog food?

Barbs

Admin




Posts

: 2708


Join date

: 2015-03-14


Age

: 59


Location

: Doncaster, South Yorkshire



Hi All,
Yep, did a bit of a trek round the Lakes with Tess. Unfortunately the weather was awful most of the time but good fun and a real experience. Tess was a star! I'm raising money for the Mountain Rescue and here's the story that's on my JustGiving page:
I've been walking the Lakeland fells for 45 years and, touch wood, have never got into difficulties and needed help. Hundreds of people per year are not so lucky though and need the help of the Mountain Rescue. I'm raising money for the Lake District Search and Mountain Rescue Association because if I ever do need them I want to know that they are there to help. The Mountain Rescue is entirely funded by voluntary contributions and all members offer their expertise and assistance voluntarily and are on call 24 hours a day, 365 days a year.
I challenged myself to complete as many of the fifty-seven Lakeland 2,500 foot fells as I and my dog Tess could manage on a continuous trek, camping or staying in b&bs overnight. The challenge was in doubt right up to the last minute due to various house move issues, which is why the fundraising wasn't done beforehand, it might not have happened at all!
As it was it went ahead, in some of the worst May weather I've ever encountered. I was literally blown off my feet on a dozen or more occasions on the ridge between Red Pike and High Crag on Day 2; out of the eleven days of the trek only one-and-a-half were rain free; most of the wet days were spent in the cloud battling against freezing wind and sleet and on the Helvellyn leg of the trek I was blown over and literally rolled along by the wind. Tess was nearly blown over the edge at Sticks Pass and I had to grab her by the collar and crawl back. If ever I needed reminding of how severe the mountains can be, even in mid-May, and how easy it can be to get into trouble or injured, then this was it. It's on days like these that something as simple as a twisted ankle would stop you moving and could be fatal. That's when you need the Mountain Rescue....
So, curtailed by the appalling weather, Tess tiring (she lay down at the top of Great End and didn't want to move, not what you need when you're 2,800 ft up a mountain...!) and getting hacked off by EVERYTHING in the tent being wet AGAIN, my trek eventually included 31 of the 57 2,500 ft fells in a circular route of 108.6 miles and ascents totalling 42,582 miles (Everest is 28,029 ft....). I managed to get myself around and kept myself safe, but others aren't so lucky. Please give what you can to ensure that the Mountain Rescue Team volunteers are there and with all the rescue kit they need, just in case I or you need them. Thanks.
My completed route was:
Day One - Keswick - Braithwaite - GRISEDALE PIKE (2,593ft) - HOPEGILL HEAD (2,525) - GRASMOOR (2,791) - EEL CRAG (2,749) - SAIL (2,530) - WANDOPE (2,533) - Whiteless Pike - Buttermere. (14.7 miles, 5,284 ft ascent))
Day Two - Buttermere - Red Pike - HIGH STILE (2,644) - High Crag - Scarth Gap - Black Sail Pass - Wasdale. (11.3 miles, 5,396 ft)
Day Three - Wasdale - GREAT GABLE (2,949) - GREEN GABLE (2,603) - KIRKFELL (2,630) - Wasdale. (7.7 miles, 4,026 ft)
Day Four - Wasdale - Black Sail Pass - PILLAR (2,927) - SCOAT FELL (2,760) - STEEPLE (2,687) - HAYCOCK (2,618) - RED PIKE (2,707) - Wasdale. 14.2 miles, 4,773 ft)
Day Five - Wasdale - LINGMELL (2,649) - Lord's Rake - SCAFELL (3,162) - SCAFELL PIKE - (3,210) - GREAT END (2,984) - Sty Head - Wasdale. (11.6 miles, 4,965 ft)
Day Six - (partial rest day) Wasdale - Sty Head - Rossett Pass - Great Langdale. (8.8 miles, 2,473 ft)
Day Seven - Rest day.
Day Eight - Great Langdale - Harrison Stickle - Thurnacar Knott - HIGH RAISE (2,500) - Grasmere. (12.3 miles, 3,939 ft)
Day Nine - Grasmere - Grisedale Tarn - DOLLYWAGGON PIKE (2,810) - NETHERMOST PIKE (2,920) - HELVELLYN (3,118) - WHITE PIKE (2,832) - RAISE (2,889) - STYBARROW DODD (2,770) - WATSON'S DODD (2,584) - GREAT DODD (2,807) - CLOUGH HEAD (2,381) - Keswick. (18.6 miles, 6,459 ft)
Day Ten - Threlkeld - BLENCATHRA (2,847) - Threlkeld. (3.9 miles, 2,255 ft)
Day Eleven - Millbeck - Carl Side - SKIDDAW (3,053) - SKIDDAW LITTLE MAN (2,837) - Millbeck. (5.5 miles, 3,012 ft)
Dave's Lakeland Frog
Above is the link to my JustGiving fund raising page where there are some photos from the trek and a link to donate.
Alternatively you can use their texting service and text PIED97 £10 (using the amount you want to donate, £1, £2, £3, £4, £5, £10) to 70070. You will then get an acknowledgement and a link to add Gift Aid.
Thanks for your help....

knebby

The Wind in your hair




Posts

: 499


Join date

: 2015-03-24


Location

: The Lake District



Shame about the weather but what an achievement. Well done.

Barbs

Admin




Posts

: 2708


Join date

: 2015-03-14


Age

: 59


Location

: Doncaster, South Yorkshire



Tess enjoying herself on Lord's Rake, Scafell....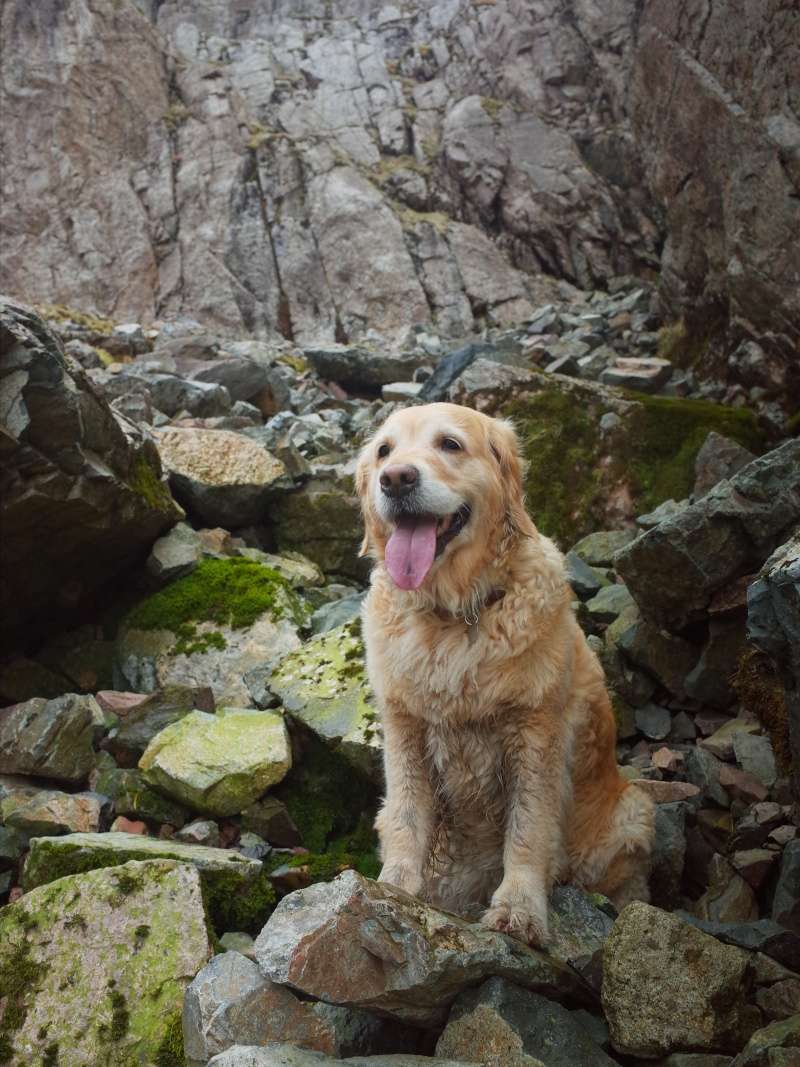 knebby

The Wind in your hair




Posts

: 499


Join date

: 2015-03-24


Location

: The Lake District



Bless her what a star probably the happiest dog in the world she's home.....

Barbs

Admin




Posts

: 2708


Join date

: 2015-03-14


Age

: 59


Location

: Doncaster, South Yorkshire



---
Permissions in this forum:
You
cannot
reply to topics in this forum