My Wind is eight years old, low mileage, and had a pristine paint job.
Right up until a couple of weeks ago when some shit-for-brains low-life decided to run a sharp implement all over the bonnet and all down the driver's side - all three panels from front wing via the door to the rear wing.
I am really not a happy bunny at the moment.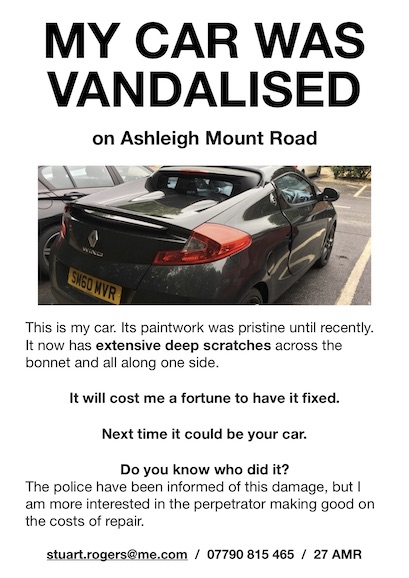 What sort of moron does this?
The Wind in your hair




Posts

: 415


Join date

: 2016-03-18


Age

: 72


Location

: South East



It's sickening isn't it. Mindless vandalism at its worst. I hope you get some joy finding who did it and it doesn't cost a fortune to fix
Took the roof down




Posts

: 31


Join date

: 2019-04-14


Age

: 50


Location

: Norwich, Norfolk



I feel your hurt. My KA has been damaged a couple of times but I know how angry you will be. Hope someone comes forward. Have you checked for CCTV where it happened.
Admin




Posts

: 2456


Join date

: 2015-03-14


Age

: 58


Location

: Doncaster, South Yorkshire



Thanks for the notes of sympathy - it's much appreciated.

It happened some time in the last couple of weeks - I don't use the car much day-to-day, so I can't be sure. It was parked just down the road from where I live on a typical housing estate, so alas there are no CCTV cameras nearby. My guess is that the perpetrator is a local youth, but I have no idea who. If he holds his nerve and says nothing, chances are he will get away with it. Some time soon I shall try to unnerve him - that poster will be taped to every lamppost in the street, a couple posted in my car, and perhaps a few either posted through letterboxes or under the wiper blades of other cars nearby. *Everyone* on this street is going to know that I am on the war-path.

The cost of getting it fixed is breathtakingly high. The paint alone is a major factor. I have had three quotes from local repair shops, ranging from £650+VAT to £1500 or so. My car insurance has an excess of £200, plus a voluntary excess of £200 (which I took a punt on to keep the costs down, having never made a claim in all the years I have been driving).

Although I have enough money to pay for this, I have far more pressing uses for it. That cheapest repair comes to more than a month's total income, as I am having to live on a small pension (I retired early as I have Parkinson's, which was getting in the way of my day job).
I feel your pain and frustration on this.....and the cost to repair.
Mine is now parked watched over by a security camera, but I dread using car parks and coming back to find damage.
Not long after getting mine I was at IKEA and came back to find just above the Wind badge on side 3/4 someone had carved a heart symbol and their initials!!
Luckily had Glasscoat so that protected it a bit and it's only when the light catches it right that can still see it. But with protection now old and worn have lots more stretches and need to have paint done too as Wind deserves it.
Put the sunglasses on




Posts

: 60


Join date

: 2015-05-05


Location

: Basingstoke, Hampshire



@DarrenJ

wrote:Not long after getting mine I was at IKEA and came back to find just above the Wind badge on side 3/4 someone had carved a heart symbol and their initials!!
Tsk! The foresight of the modern day vandal is awful - what kind of criminal gives themselves away by signing their work...?
When I was getting quotes, some of the mobile repairers such as 'ChipAway' (not a recommendation, just an example) would charge approximately £80 to get something like that sorted out.  None of them would touch my car however, as it was too big a job for the kind of kit they carried in their vans.  If my vandals had limited themselves to something on that scale and price, I wouldn't have been so upset.
The "kid" that did this - if he/she does not bear a personal grudge - probably thinks that this is a "fat cat" 's car,

because nobody ever sees the Twingo genes in it (and let's be honest: this is the way we all want to have it).
Do you have a Paypal address? (if not it is really easy to get one).
I would sacrifice 50 EUR (1st I am from Germany, 2nd I am not rich) to the Gods that saved mine the whole time and you would get this money in the real world for your repair. I just need your Paypal address.
This forum has saved me money and I would be glad to "pay it forward".
You can do the same one day in the future if you feel like it.

Set the stereo




Posts

: 23


Join date

: 2017-07-21


Age

: 59


Location

: Kuhardt / Germany



My apologies for not replying sooner - I have had difficulties logging in.

I must say that that is incredibly generous of you, but I feel I really must decline. Save your money for a far more deserving cause!

By the way, the vandal has struck twice. The second time he left little dents on the passenger door (from, possibly, pushing a pen nib into the bodywork). The repairs are done. My car is pretty again.
HI ShakeRattleRoll!

Now it was me the one with the login problems. I posted it in the German wind FB group and Barbs sorted it out for me.

Glad to hear that you wind is pretty again.

Seeing the number of times the vandal has struck, I would be tempted to install a hidden webcam. Yes, it is illegal (GDPR wise). But as soon as you know who is behind it you can try to get other "legal" evidence.

I wish you the best!
Set the stereo




Posts

: 23


Join date

: 2017-07-21


Age

: 59


Location

: Kuhardt / Germany



Similar topics
---
Permissions in this forum:
You
cannot
reply to topics in this forum